Training
Your monthly fee (Silver package upwards) will include a 1 hour training session on how to use 'StartAsite'
Thereafter each 1 hour session costs £40.00 +vat.
We do however as well as this initial training have more detailed training sessions - see below...

To make the most of your website we offer a full range of training and support solutions.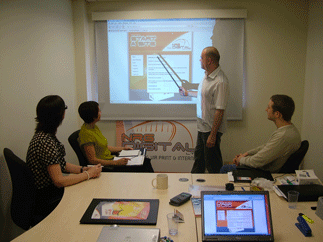 In addition to the StartASite package we offer an extensive training course, so you will be up and running in no time at all. We currently offer 2 training packages:-
Full - Includes all 10 training modules (including all of the 'Lite' training modules and training modules on how to set up a website in StartASite Version 5.0)
Lite - Includes 5 training modules on the day-to-day up keep of a website
Module 1 - Introduction/Web Terminology
This module has been designed to give you a gentle introduction into the world of websites, by explaining all the terminology/jargon which is used in the designing and building of any website.
Module 2 - Inside the Web
Once you are comfortable with the terminology we will next show you how the World Wide Web is implemented. This module will go over the in's and out's of web servers, Domain Name Servers, Domain Registrar's and the overview architecture of the World Wide Web.
Module 3 - Creating a Website
Now that you have the basic knowledge of how the World Wide Web works. You are now ready to create your first website. With this module we will guild you through how to set up your first website, from buying the domain name to showing you what is involved in configuring StartASite
Module 4 - Designing a Website
Now that you have your website, the next step is to create a design using one of our pre-built templates. We will show you how to use the template Photoshop files, creating your design, slicing up the design into manageable images and uploading these to your website. This module will include very basic CSS manipulation.
Module 5 - Understanding Cascading Style Sheets (CSS)
Cascading Style Sheets (CSS) are website documents which contain all the style attributes for your website. We will show you how to read and understand CSS, which is essential if you are wanting to create your own website templates.
The following modules are apart of the Lite training package:-
Module 6 - Configuration of a Website
The first thing you should do with any website is to set it up correctly, this is exactly what this module will show you. From setting up the website title to setting up and configuring your meta-description and meta-keywords.
Module 7 - Adding Content
The aim of this module is to show you how to make small alterations to the site yourself. For example changing product information, uploading photographs, updating contact information.
Module 8 - Manipulating Images for the Web
There are certain rules when using images on the web, this module will show you what these and demonstrate on how to use Adobe Photoshop effectively.
Module 9 - Creating Web Galleries
The aim of the module is use the images you have manipulated with Photoshop and put them into an attractive website gallery.
Module 10 - Search Engine Optimisation
To ensure that your websites are at the top of all the search engines, we are offering a module which will show you how to use StartASite to optimises your website for all the major search engines, Google, MSN, Yahoo, etc. We will show you how use meta-keywords and description efficiently.
Training can be carried out at our superb facillities here at St Peters Gate in Sunderland.